kami ke hospital la hari ni...
wahhh.. serius sangatsangat syok...
pengalaman baru dalam hidup as a medical student..
meh nak story sikit apa yang berlaku sepanjang hari ni.
okay start..
ini group kami.. tapi tak semua.
dari semalam lagi sebenarnya aku rsaw betul kalau tak sedar pagi tadi.
mujurlah sedarsedar pukul 6.
fuhhh... memang lega den...
dah la nak kena p naik bas kat mawar.
jauh tu...
jam menunjukkan pukul 8.15 pagi..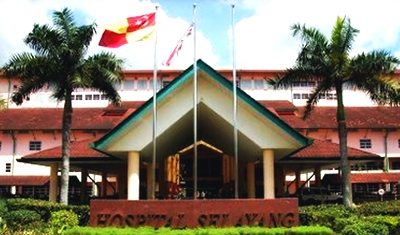 yess.... at hospital selayang..
tour sendiri tu untuk cari lecture hall..
padahal semua tak tahu pon kat mana da lecture hall.
usaha tangga kejayaan kan? cewahhhh... haha
then ada sikit brief by da doctor kat sana bout examining da patient.
tak suara pon.. semua fokus...
next, dibawa ke wad according to group masingmasing.
ok. aku dapat doctor pakar tulang.
so dibawa ke wad lelaki ortopedik.
experiece yang teramat syok is dapat apply what we had learn to da real patient.
korang jangan ingat senang taw.
bukan senang nak dapat permission by da patient.
tapi most of em, da bese dah dengan student macam kami nih..
so, kira selamat lah jugak,
another cabaran yang besar masa jumpa patient is nak kena translate apa yang dibelajar tu dalam bahasa melayu..
punyalah susah nak elicit reason kat patient bila kat hospital.
ayat melayu gilew a skema..
contohnya,
adik, bolehkan saya ingin tanya kenapa adik masuk hospital?
memang ambil masa yang lama nak tukar ayat tu nak bagi sedap.
alihalih sendiri gelak dengan ayat sendiri.
kalau speaking tu, masingmasing laju je berkatakata...
(pehhh.... memang gempak la korang... haha)
tak dapat nak letak pic dalam wad sebab macam not allowed to snap pic jew.. huhu
next destination....
fakulti perubatan kampus selayang.
sejujurnya, kampus ni memang sangatsangat cantekkk!!
memang betul la orang cter library paling mahal kat malaysia.
bangunan pon gempak gak uh..
kitorang buat apa ek kat sne???
check blood pressure and buat presentation....
tak tahu dah nak cter apa...
saje nk menghilangkan buhsan... hehe